As many of you know the main man in my life is about 2 feet tall, weighs about15 pounds (give or take a late night snack or two), and has the most beautiful black and white curls you've ever laid eyes on! He is the most patient and loving friend I've had. He could care less that my age is showing and that most days I'm not too easy on the eyes. He doesn't care that I have slowed down to a snail pace, and can't run the blocks with him like I used too. Wait, I don't think I ever did that. We are growing old together, and he is doing it a lot better than I am. He's heard my lifes troubles and woes more times than we can both count, but he is always right there for another round and for another version. He is ALWAYS happy when I walk through the door (never mind that I just walked the trash out) and his wiggly butt and tail go furiously to make sure I know I was missed. I'm constantly amazed that such a little guy can take up an entire king size bed, snore louder than most adults I know, bury a cookie faster than lightening in mom's tulip garden, make complete strangers stop on a street just to say hello to him, and that he can make my heart completely melt and forget his naughtiness with just a single look! He's my buddy, my snacking partner-in-crime. He is a rescue from the side of a freeway in Southern Colorado, but if you know me, and know him, the more accurate story is that he is the one who rescued me. The joke about these cookie recipes that I share is that I bake and bake and bake these "healthy" wonderful treats, and Jack either turns up his nose at them, buries them in my bed, or they end up as buried like the bones in mom's garden. Just like me it's not the healthy things he wants. So I will continue to happily bake for all of his furry friends pretending that one day he'll eat one of these treats. I'll keep sharing wonderful recipes I find so that you can treat your best buddy to a made with love snack too. But for now, Jack can have another "chicken" treat, and I'll have another Pepsi...and life as we know it will go on in ignorant bliss. :D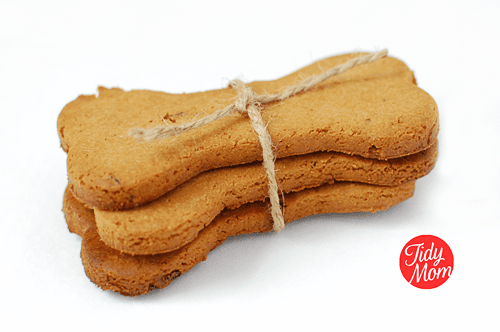 Peanut Butter & Bacon Dog Treats {Gluten-Free} by TidyMom.net
1 cup oat flour (you can just whip up your own by grinding up rolled oats)

1 cup brown rice flour (or you can substitute regular or whole wheat flour)

1/2 cup peanut butter (unsalted is best)

1 tablespoon honey

1 egg

1/2 cup water

2-3 pieces cooked bacon

1 shredded carrot
Preheat oven to 350°. In a medium bowl combine all wet ingredients until well blended. Add both flours to wet mixture to form dough.

Roll out between two pieces of parchment paper or lightly floured work surface to 1/4 inch thick.

Cut out with cookie cutter. (I used a dog bone shape cookie cutter)

Place treats on a parchment lined baking sheet (they can be close together, just not touching) and bake for 20-25 minutes.

Cool in oven, then transfer to a wire rack to cool completely.

Store about a weeks worth on the counter in a sealed container and the rest can go in the freezer!